Weekend (with pictures!)
I worked Friday (my second Friday doing so), so that doesn't even really count as a weekend. After work, however, I headed over to Zach & Jen's with the architect's pickup so I could help them get a few boxes over to their new home that evening.  We got quite a few boxes over between the pickup & their car, and then I got the grand tour of their super cute house and awesome garden. (Also they rewarded me with beer! Yay!)
I headed home, but not before stealing Jen's cellphone (apparently I require more rewards than just a beer) and they chased me all the way back to my 'hood before I relented and gave back the phone. I then took the architect out for his carb-load dinner and pre-race beer and we settled in for the night.
The next morning wasn't too rushed. There was coffee and breakfast and loading of the car – and then we were on the way. I drove him to the race start (this bike ride is so laid back; you can start anytime between 6 & 9, and we were aiming for an 8 am start). We got lost. And by the time we got there and got the race number and everything, it was nearly 8:30.
While waiting for the architect to get his gear together, I bike sat and people watched.
I was amused by the moving truck that takes people's bags to the finish line
I wish there was a place I could just drop off my baggage for the day.
Finally, he was ready to go.


He's wearing his STP 07 jacket in anticipation of the potential rain.
After he rode off, I hopped back in the car & headed to Manning, OR – one of the trailheads on the Banks-Vernonia trail.  Before I got there, I stopped at a gas station to…*ahem* use their facilities, and because I always feel bad when I do that without buying something, I bought a Diet Coke and a Clif Bar. (This is important later. Kind of.)
I finished making my way to the trail and emailed my "don't die running" buddy to let her know I was starting, what my planned direction was, and when I anticipated being done.
Now – before I talk about the run, I just want to say that the last long run I did was April 30 and was 7 miles. Since then, I haven't run over 3.5 miles, and have been running about once/week. On my schedule for this week was 9 miles. Which is quite a jump when one hasn't been running, right?
So, I decided that I would run out & back towards Vernonia (uphill out & downhill back) for a total of 7, and then, if I felt good, I would head out towards Banks (flat, but not as pretty) for either 1, 2, or 3 miles, depending on how I felt.
The first 7 miles were great, actually. Since it was my first long run in a while, and I didn't really need to WIN anything, I decided that after mile 1, I would walk a bit at the top of each mile, just to save my legs. The splits for my first out:
Mile 1: 10:26
Mile 2: 11:43
Mile 3: 11:56
Mile 4: 11:04 (turn around at 3.5)
I was feeling good – both about my legs and my times. I really want to run my long runs about 30 seconds slower than my planned marathon pace. Since I don't actually have a PMP for reals yet, I'm basing it on an 11:10 pace (about 15 minutes faster than my last marathon), so am aiming for an avg pace of 11:40-ish; so far, so good!
I turned around at mile 3.5 and headed back – downhill (slightly) now. I felt really good, and had to work not to go TOO fast, because I wanted my quads to function the next day. I kept up my brief walk at the top of each mile. During this section, it also became apparent that this was the longest run by far I'd done in my new shoes. The balls of my feet started hurting, but I was able to walk it out on those short walks (I had about 10 miles on the shoes, never more than 3.5 miles at a time, before Saturday's run).
Mile 5: 10:54
Mile 6: 10:39
Mile 7: 11:42
I stopped at my car, cursing myself for not having found my fuel belt before my run. I was sooooo thirsty. I drank about 20 oz of water & ate most of the (aforementioned) clif bar. I also updated my "don't die" buddy (she was done with her run) with a new ETA and headed back on the trail.
I decided that I would do my scheduled 9, but then at the turnaround point, I felt okay, so I decided to go for that 1/2 mile extra to make my run an even 10. I felt great to the 8 mile mark, but definitely felt it the last couple of miles. I took walk breaks every 1/2 mile after mile 8.
Mile 8: 11:06
Mile 9: 12:11
Mile 10: 12:29
I was so happy to be back at the car. I got an email from my "don't die" buddy just as I was walking to the car, since I was later than I said I'd be done (my slower pace on the last 3 miles + my decision to eat & drink more after sending her my planned finish time were to blame). I confirmed that I was done and not dead (and actually pretty happy).
Overall pace: 11:25 (1:54:10)
Pace for 1st 8: 11:18 (1:30:30)
I am pretty happy with this run! It was my first double-digit run since early March 2010. I finished the whole thing with a good pace, even with my decision to walk at the top of every mile. My feet felt fine about 20 minutes later. The only regret? Not having water/fuel with me on the run. I haven't had to carry anything for ages, and had lost my fuel belt. Also, I hadn't even planned on fuel at all – so glad I bought that gas station Clif Bar! (I told you it was kind of important!)
I am thinking of getting a new one – something like this: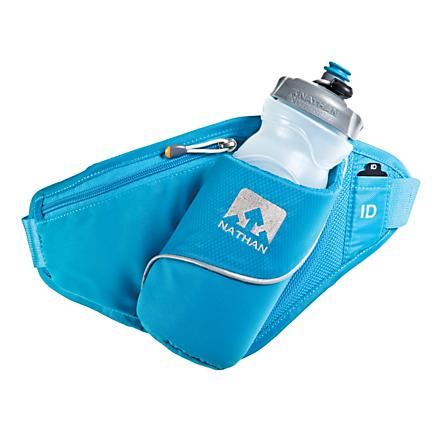 Thoughts? Other recommendations?
ANYWAYS – my day was not yet done! After stretching (trying to be a lot better about this this time around), I hopped back in the car & headed to Pacific City.
I got in about 1:30 with a desperate need for food and a bathroom – not necessarily in that order. I headed into the Pelican Pub & Brewery and said, "I really want to eat, but do you have a bathroom?" They pointed me in the right direction, and after waiting in line for AGES, I finally got in. I took care of business and changed out of my stanky running clothes. I headed back to the front of the pub and got seated. I had some really good Mahi Mahi tacos, an IPA and apple crisp for dessert. After deciding I couldn't draw out the sitting inside any longer, I headed out to wait for the architect.
He was texting me occasionally, and I knew he was going to be much later than he'd planned. There was a crazy-ass headwind, and his chain was all janky.  In 2009, he finished the ride so quickly that I didn't see him cross the finish line. It took waaay longer this time.
Finally, though, I saw him approaching the finish line!
Yay, architect!
He got off the bike and I gave him his finish line gift (a Pelican jersey), and he checked his bike. We walked to the beach and sat for a bit.
At that point, he decided it was time for food. He didn't want to wait in line for the questionable-looking post-race food, so we went across the street for some pizza (no line!).
After pizza, we headed out again – this time to McMinnville.
We stopped briefly near Grand Ronde so that I could check out the porto bank Pow Wow grounds.
Finally – the hotel! We stayed at the Hotel Oregon in McMinnville, and it was…cute. I knew we would be sharing a bathroom with other rooms on the floor. I didn't know that our room would be directly over the stage with the cats in heat karaoke. (Also? no TV! How can I have a hotel experience without cable?)
After getting settled and changing clothes, we went up to the rooftop bar for a much deserved beer.
It was chilly, but the view was amazing.
We headed back to the room, and as soon as the karaoke stopped, we were both out.
The next morning, we had breakfast (so convenient to not have to leave the building) and headed the rest of the way home so that I could do homework (yay!).
I did procrastinate a little in the garden before buckling down, and we got to harvest the first radishes of the season!
Yum!
The rest of the day was spent doing homework and recovering from our combined exertions (i.e. nothing very exciting or picture-worthy).
Happy Monday! (and happy short-week followed by a 4-day weekend.) (oooh – and happy "piano gets delivered on Friday" week!)
Follow me on social!